First Trinity Baptist Church News
Stay informed with our latest news articles

First Trinity Missionary Baptist Church continuing to distribute bottled water
By ABC12 News - April 2018

First Trinity Missionary Baptist Church at 1226 Beach St. in Flint has been running its POD on donations for the past two years and they say that wont stop when the state cuts off funding.
View Video
Flint Residents Rely on Churches as New Water Source
by
Courtney Wheaton
NBC25 News - April 2018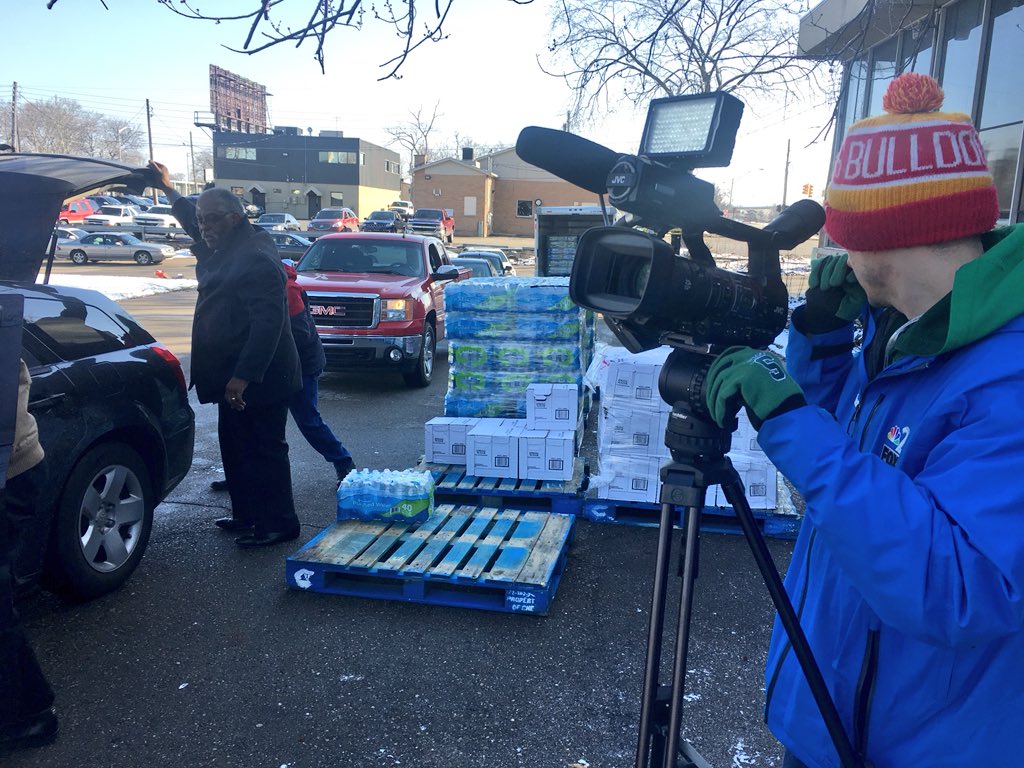 First Trinity Baptist Church gave more than 3,000 gallons of water away to residents on Tuesday. Residents are now turning to churches to receive water after Governor Snyder announced on Friday that the state would no longer be providing water due to decreasing lead levels over the last two years.
View Article
Bridge Over Troubled Water
By Shawnda Hamilton - September 7, 2016

First Trinity Proud!! Thank you to Lott Carey for the 3 featured stories in the Lott Carey Herald showcasing our continued work in servicing our community during this ON GOING Water Crisis, the Revive Community Health Center, and how our Faith is keeping us smiling! ...
View Articles
A Call to Serve!
By Shawnda Hamilton - March 17, 2016

In the last few months the spotlight both locally and nationally has been on the city of Flint. Newspapers, Blogs, and National Nightly News have all reported on the Water Crisis here in Flint. Yet again, God has called the church to serve and aid those that are in need. First Trinity has answered the call in a mighty way. Strangers both near and far have flooded our city and our church with resources to reach the masses by the truck load. These past few months has shown our city and country that love is still active in this present age. Donated products has allowed us to coordinate efforts to reach the ... Read More
First Trinity Baptist - Oasis During Flint Water Crisis
By George - January 30, 2016

FLINT, Mich. President Obama said on national television last night that if he were a parent in Flint he would be "beside" himself with anger.As he spoke members of the National Guard deployed a week ago by Gov. Snyder were working at a water distribution center set up at a Flint fire station. They unloaded pallets of water from the backs of massive semis. Up a block and over, in the parking lot of First Trinity Missionary Baptist Church, a humbler scene unfolded. Volunteers, some of them the parents the president talked about, were unloading a pick up truck loaded down with 80 cases of water. The water ...
Read More
Transforming Disciples By Leadership
By Ezra L. Tillman Jr. - December 31, 2015

Praise the Lord Saints!
What an awesome opportunity we have in 2016, to engage the mission Christ ordained for the body of Christ. The church as we know is common and comfortable with someone else being held responsible. However, I call to the Christ in you that we may collectively respond to the call of the great head of the Church! In view of First Trinity and churches abroad, we see that there is a greater influx in church memberships, but not necessarily in spirituality or in the knowledge of Jesus the Christ. Some think we may be out dated or to old school however, the bible clearly challenges ...
Read More